When I first started my business, I knew no one. I was shooting weddings for free for my friends, and barely charged anything ($250) when I finally did start charging. When things started to take off for me is when I started reaching out and doing things for others. I grew my network.
I was inspired to do this when I met so many amazing photographers at a styled shoot ran by Mae and Co. I felt inspired, got amazing content, and I learned so much from others. It was a pivotal starting point.
After that styled shoot, I decided to put my own on. I rented a studio in Portland, asked one of my gorgeous friends to model in her wedding gown and then reached out to other photographers and planners to come and get free content. I was offering something for free to them. I wasn't trying to get something from them. That is the key, you guys. Networking is not asking for something (at least without offering to pay).
I reached out to Lauren Miles and Gavin Brown, an amazing photography/videography duo. That is also when I met Marina Haynes who took a chance on a new photographer and did makeup and hair. I also met Brittany from Letters and Dust and she brought a beautiful stationary and sign set. Lindsay from Peachy Keen Coordination came by and helped with staging some things. Of course I had no idea what I was doing or what went into a styled shoot, but I offered to put all this together for them.
Why? No one just puts things together for other people to get content or to help their business. I wanted to do something different. I felt like it was the only way to really grow my business. And it worked.
I continued (and still continue) to try and do things differently in my business and to be kind, do things for others, and pay people for their time or materials. You would be amazed at the people who don't even offer florists some compensation for paying for the flowers. They have to spend a lot of money on those blooms!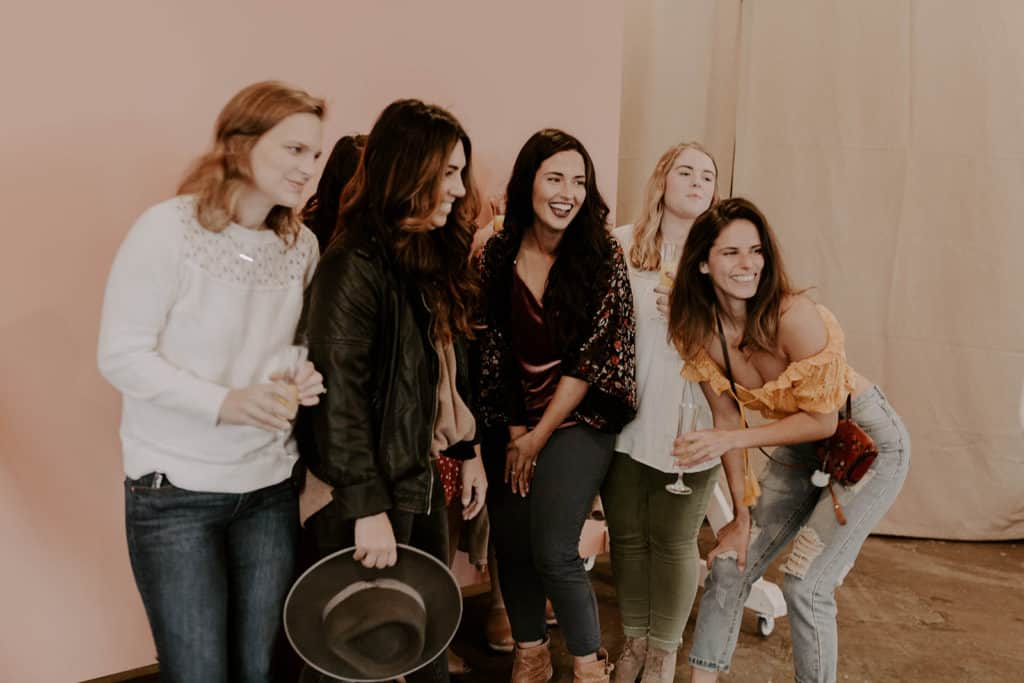 So, how would I recommend growing your network?
If you take nothing else away, the one thing I would say is that HUMILITY is your biggest ally. If you once become "too big for your own shoes," or feel like you have nothing left to learn, that is when you lose. Going with the flow, allowing plans to change, working with things when they don't go your way, are all important characteristics of someone who will be successful.
Host a styled shoot for a ton of photographers. Post it on social media and on photographer Facebook groups. Limit the number otherwise it will be overwhelming. Don't expect to get a lot of your own photos of the models. You're there for the photographers and to network, you're not there to get your own content. Instead, chat with them, help them with their cameras, direct the models, make sure everyone can get some shots. This might mean doing groups of three or four at a time and then having them move so others can get shots.
Do a meet-up where you and other wedding vendors get together and just share a drink. Make it enticing by offering free food or drinks. Its fun to just get together and not have pressure of taking photos or having people have to bring anything.
Message as many wedding vendors as you can (in a non-slimy way) letting them know you would love to photograph their content for free or just help them in anyway you can. Florists love if you can come help them set up or be an extra set of hands on a wedding day. Offer to do this for free so that you can just meet them and show them how amazing you are. You will also learn a ton about the wedding industry. Keep messaging until you find someone who will take you on. You will eventually find someone!
Shoot as many things for free as you can. Why? When other people post your photos on their social media, you're connecting with their network of friends and broadening your reach. It is free marketing!
Get onto a wedding Facebook group for your local area and put out a message that you're willing to do engagement photos for free to build your portfolio. Who knows, you might be the one who lands the wedding for that couple! If not, you have great content to post and add to your portfolio.
Go onto Eventbrite, or other ticket selling websites and find wedding expo events or wedding network events and buy a dang ticket. Actually meeting people face to face and talking with them about their business (not talking about yourself) is another little known secret. There are many events in major cities that are put on by wedding vendors. The Knot and other entities like bridal magazines also put on wedding vendor events, so I encourage you to do research and find them.
Collaborate with businesses that need photographs for their social media and website. I reached out to and worked with Eola Hills to capture some great photos for their social media. We also did a cross collaboration giveaway where I gave away a few family sessions and they gave away a few tastings. This allowed me to get into their network of clients and vice versa. It was a great collaboration that allowed me to do some amazing work with big wedding vendors. Now, I pitched the idea to them in a way that showed them that they could broaden their reach and that is the way you want to do it. How can this benefit them? Always lead with that.
In-person introductions. This one is a little weird, but I did it and if you're not slimy, you can just get people to know who you are. What am I talking about? I walked into bridal shops and wedding venues and introduced myself. I did a blog post on the wedding vendors that I loved in Portland and I wanted to take photos of the inside of their venues/storefronts, so I asked if I could feature them on my blog and they loved it. They used some of my photos on their social media channels too! It was totally a success, but I went in doing something for them to help their business. Don't go in asking them to refer you to couples. That's just gross.
Workshops. I have a love/hate relationship with workshops because you never know if you're going to one that is going to be good or going to be a flop. I have heard amazing things about big workshops and horror stories about the hosts being drunk or not giving the information that people signed up for. So read reviews, look at what other people are talking about. I can list a few workshops that I know in my area and some national workshops that I have heard great things about. You meet tons of wedding vendors, learn how they grew their business, and get amazing content.
These nine things don't seem extraordinary, but in fact, have been the main way I have grown my network. I have seen so much happen over one year from consistently doing these four things.
I challenge you to do the leg work and put these on. You will be so surprised at what happens. They don't have to be extravagant or costly, but just getting people into the same room and doing something to serve them is the most powerful tool I have found in my business.
Want to know really in-depth all the things I have done over this year to grow my business? I have that linked HERE. It talks about what I did in the first few months to grow my business when I started.
I hope this answers questions for you! This isn't easy, but it is so worth it!
xo,
Casi